Emergency Medical Services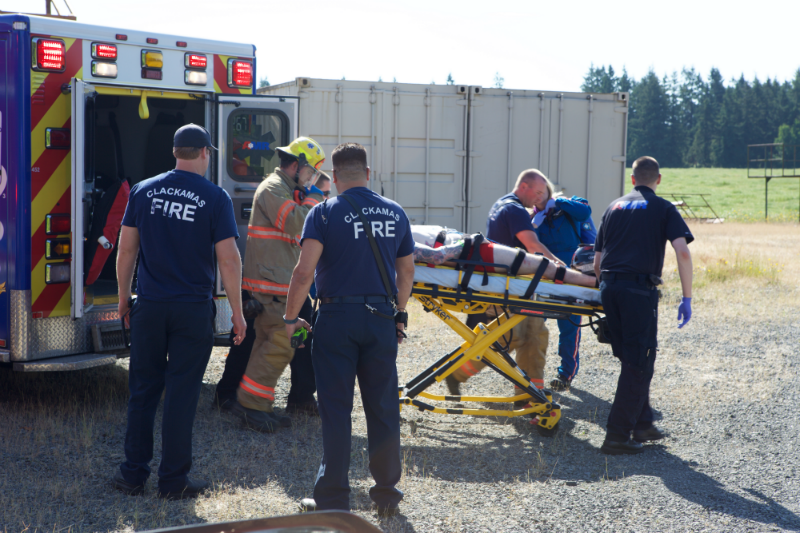 Nearly 70 percent of the emergency alarms to which Clackamas Fire District #1 firefighters respond are medical in nature.
Clackamas Fire District #1 responds to these emergencies with highly skilled Firefighter/Paramedics and Firefighter/EMTs equipped with the latest emergency medical technology.
Clackamas Fire District #1 responds to these emergencies with highly skilled cross trained firefighter/paramedics and firefighters (EMTs) equipped with the latest technology in emergency medical equipment. Currently, Clackamas Fire District #1 consists of over 150 paramedics, 15 EMT Intermediates, and over 30 EMT Basics. Each piece of career fire apparatus responds with at least 1 paramedic and carries the latest in advanced life support equipment.
Clackamas Fire District #1's EMTs and paramedics also respond to motor vehicle accidents, water rescue emergencies, high angle rescues, and other emergencies requiring emergency medical treatment. Because of this, Clackamas Fire District #1's EMTs and paramedics are continuously training to deal with patients in these situations.
Emergency medical response in Clackamas Fire District #1 is performed using a two-tiered system. When the 911 system is activated, both the fire department and a private ambulance company are dispatched. This ensures the fastest response time to the emergency and provides the needed personnel to treat and transport the patient. Clackamas Fire District #1 works closely with American Medical Response, the County contracted ambulance transport company to provide fast and professional medical services.
Cardiac Arrest and The Chain of Survival

Fast response with paramedics equipped with defibrillators, airway devices, and cardiac medications give victims of cardiac arrest the best chance at survival.
The term Chain of Survival provides a useful metaphor to helps improve cardiac arrest patients chances of survival and recovery.
The 5 links in the adult out-of-hospital Chain of Survival are
Recognition of cardiac arrest and activation of the emergency response system
Early cardiopulmonary resuscitation (CPR) with an emphasis on chest compressions
Rapid defibrillation
Basic and Advanced emergency medical services

Advanced life support and post-cardiac arrest care
To promote greater public access to defibrillators, Clackamas Fire District #1 supports businesses and schools that provide Automated External Defibrillators (AEDs) at their locations.
► To see a list of AED locations in Clackamas County, download the PulsePoint AED App for mobile phones.
Patient Privacy
Clackamas Fire District #1 protects the privacy of its patients by strictly following the Health Insurance Portability and Accountability Act of 1996 (HIPPA). Our HIPPA policy is designed to protect the privacy and rights of our patients while allowing certain information to be used for quality control purposes pertaining to the Release of Medical Records.